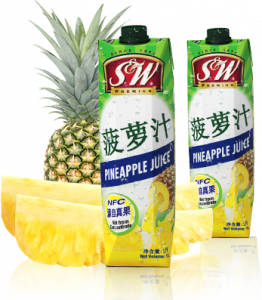 Have you ever been so thirsty for a fruit drink, only to finish a pack and still want more? Now, life is made easier, more convenient and nutritiously healthy for you and your family with S&W 100% Pineapple Juice available in 1 liter tetra packs!
Filled with delightfully sweet and tangy juice made from 100% pure pineapples, this fresh carton packaging provides you with
a delicious fruity taste of S&W Pineapple Juice you can enjoy,
any time of the day! The tetra pack is also designed to be more consumer-friendly than tin cans since it is resealable, lightweight and handy – giving you more reason to treat yourself to a healthy drink packed with your daily dose of vitamin C.
In addition, it now comes in a bigger, better pack size of 1 liter so that you will never run out of your favorite juice while on the run or just simply relaxing at home. Our 1 liter pack is perfect for sharing in any occasion with family and friends for that deliciously refreshing sip anytime, anywhere.
Savor the refreshing goodness of the finest, perfectly ripe pineapples until the last drop with S&W 100% Pineapple Juice in 1 liter tetra packs, now available in China to make life taste fresher, healthier and even better!