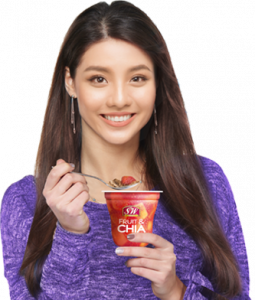 With the new S&W Fruit and Chia, you can snack real, fresh and fun while enjoying luscious chunks of mouthwatering fruit and wholesome chia seeds!
This deliciously refreshing treat comes in three unique flavors: Pears in Blackberry Flavored Chia for a sophisticated twist on a healthy snack, Mixed Fruits in Tropical Flavored Chia for that exciting tropical sensation, and Peaches in Strawberry Dragon Fruit Flavored Chia complete with chunks of sun-sweetened peaches, all bursting with irresistible fruity goodness.
Each cup contains a whole serving of real fruit and an added boost of chia seeds loaded with antioxidants, fiber, omega-3 fatty acids and essential nutrients like Vitamin C to get you going
throughout the day. In addition, S&W Fruit and Chia is BPA-free, GMO-free and does not use artificial flavors or sweeteners, ensuring you that every bite is full of nothing but flavor and realness!
So what are you waiting for? Snack differently and nutritiously now by grabbing a snack filled with mouthwatering, fruity goodness with the new S&W Fruit and Chia!